I'm a little behind this week on posting my thoughts on Chapter 3, Emergent Readers, this week. I have to say that readers at this stage have always been my challenge. Most of my experience is with intermediate students (Grades 3-5) but as a K-5 Reading Coach, I consult with many primary teachers in regards to their readers as well. Often, they have children who are "stuck" in this phase of reading and as the year ends, they are still there. I'm so happy to have read this chapter as it offers a clear framework for guided reading lesssons with those kiddos- and even the author acknowledges that we need to look at these readers differently and be comfortable that Guided Reading with these readers will look different.
I found so many connections to Marie Clay's Reading Recovery in this teaching sequence. For example: the readers visit the text 3 times prior to the mini-lessons and the cut-up sentences activity is a staple in a reading recovery lesson sequence in order to make the reading and writing connection. You can download my notes for Chapter 3 below. Thank you to Beth over at Thinking of Teaching for creating the note-taking form for us.
Here is a little something for you, you can use it for lessons that focus on Working with Sounds and Working with Words- ENJOY!
Be sure to visit our host for Chapter 3 for her thoughts on Emergent Readers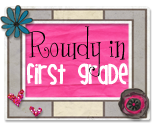 If you haven't started, it's not to late to catch up on the conversation. Here are the wonderful ladies who have hosted our book study so far.
Chapter 3 - Rowdy in First Grade
I'll be posting my thoughts on Chapter 4 later this week, but be sure to check out Primary Inspired for an amazing post on Early Reading and for some FAB FREEBIES:)