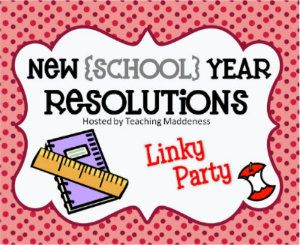 Today I am linking up with Amanda Madden at Teaching Maddeness to share and commit to my Back to School Resolutions. I'm not going to lie, I always make a New Year's resolution, but I can't tell you the last time I actually followed through with it. So, here in blog land I am going to make 3 commitments for this school year.
#1: CREATE A TO-DO NOTEBOOK: My good friend and colleague, Sarah, keeps one of these going all school year. Every year I watch her with her notebook and envy when she crosses something off and starts a new page. What a great way to look back at the end of the year and see all that you have accomplished- even if it was just "turn in comp time request!". I may even make a fancy notebook to house all of my tasks! I'm sure I'll find inspiration on Pinterest.
#2. READ MORE FOR PLEASURE: This is kind of entertaining that as a Reading Coach I need to add this to my list. I mean, I do read for pleasure, but those books happen to be children's books or professional books. I feel a little left out out not being able to talk about The Hunger Games- kind of like how I let the Twilight obsession blow right by me.
#3. COACH MORE TEACHERS: This is a tough one that so many instructional coaches face. But, I am committing to finding a way to participate in more coaching cycles this year. Sure, I worked in a lot of classrooms, held workshops, etc. I've even coached teachers on new strategies that we were required to implement, but I really want to find the time- among my many daily demands- to coach teachers on areas of their own interest- not just school or district initiatives. Maybe the first thing on my to-do list will be to talk with other coaches for some ideas on time management. Oh Boy....I guess some sort of time management goal needs to be in here too....But maybe I'll save that for my New Year's Resolution.
I'd love to hear your resolutions for the new school year. And don't forget to visit Amanda and link up!
Happy Monday!